Our first "Music for Good" project – David Won, Jr. and Diana Won, along with their dad, David Won, Sr., played all the music of the regular church service at First Parish Congregational Church in Braintree on Sunday, October 8!  Congrats to Diana and David.  You created a lovely service for all the parishioners!
Here's a photo from the very inspiring service: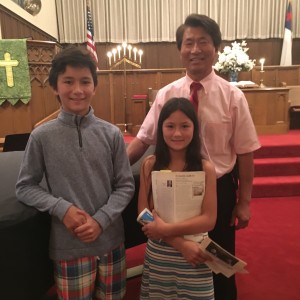 This new, studio-wide project will be one of the most exciting we've ever experienced here at Alison S. Barr Music Studio.  Once you play your special MUSIC for GOOD!! concert, you'll be able to add your own photo where Skye's is in the flyer below –
I'll be presenting some guidelines and setting up performance opportunities very soon, so stay tuned!
Music is a powerful force for good. People who hear music, especially those who may not have a lot of opportunity to hear live music, are given a chance to hum along, move a little, think of happy times they may have had and enjoy being with others who are listening. Also, your music can benefit a good cause, as in the Thanksgiving Playathon that raises funds for homelessness. As a pianist, YOU have the power to offer your music to someone who would benefit from it. This year, everyone in the studio will participate in an outside concert – either one I arrange or one you arrange yourself! Start thinking about where and when you might like to play.