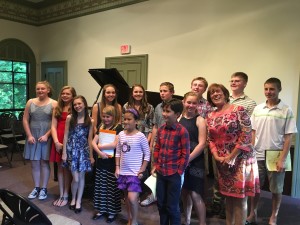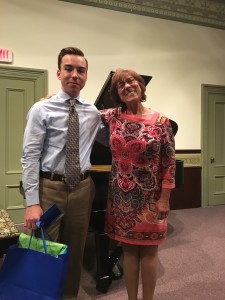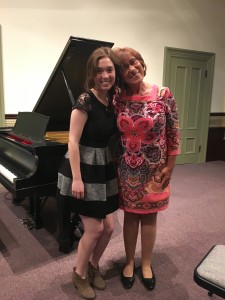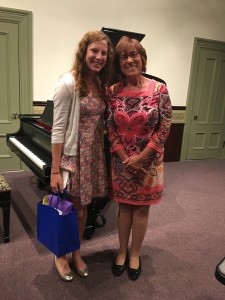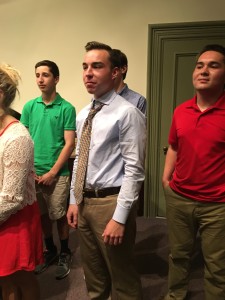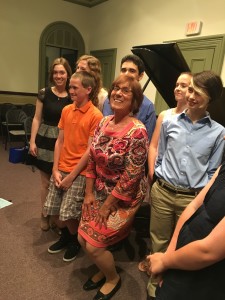 Spring Recitals on June 10 – A Huge Success!
Our Spring Recitals were a huge success! Below see the Early Recital Participants (top photo,) including Emma and Elizabeth Beyer who study with my colleague, Carmen Cardoza. Also pictured are our three amazing Graduating Seniors (from top to bottom) – Will Anderson, Angela Mirisola and Annika Rowland AND some members of the Late Recital. What a wonderful year it has been. Thanks to everyone!
IMG_1827 IMG_1832 IMG_1834 IMG_1839 IMG_1844IMG_1840
JUNE 5, 2016 – Improvs are here!
(Please scroll down to bottom of this post to find them.)
These were created in January and February 2016. Thanks for being patient. Have a great time listening to each other's creative work. Your improvs are thoughtful, fun and extremely varied.
MAY 14, 2016 – High School Master Class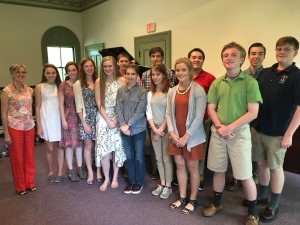 On Saturday, May 14, Master Teacher Elizabeth Ann "Betty" Reed expertly advised each of the thirteen high school students on their recital pieces.  The James Library was a wonderful backdrop.  Betty commented on the high level of musicianship, preparation and respect each student brought to his/her playing!
Thank you, Betty, for your inspiration!
MARCH 23, 2016`– Sight-Reading and the Blues!
Sight-reading at the piano, or, more accurately, sight "playing" is a lifelong skill and truly the gift that stays with students long after formal piano lessons have ended. This spring, each student is asked to sightread at an appropriate level and then report on his/her progress. We are also sight-reading in each lesson and skills are already improving!
The other exciting Spring curriculum component is Blues Improvisation – with the piano students playing chord progressions in their own enhanced formats and me playing the flute as a solo instrument. It's a challenge for me to improvise, but it's a great example to the students and certainly one more road to self-expression and musical freedom for everyone!
MARCH 18, 2016 – Classical Perfection – Mozart Lecture-Recital on Friday, March 18
Please join me and my dear friend and colleague, Janna Bruene, for a Lecture-Recital entitled, Classical Perfection, on Friday, March 18, at the James Library in Norwell, from 7:00 p.m. until around 8:30 p.m. UnknownWolfgang Amadeus Mozart will be the featured composer of the evening! We'll be playing one of his four-hands Sonatas, sharing excerpts from lots of his music and talking about the genius of this composer, particularly when it came to Opera and Piano Concerti!
This evening is free and open to the public. Donations to benefit the Stewards of the Steinway,* will be gratefully accepted.
Please come if you can!
*The Stewards of the Steinway is a fund established to maintain the beautiful Steinway "B" which we so lovingly use for our recitals.
MARCH/APRIL AMERICAN MUSIC TEACHER ARTICLE!
I am proud to announce that my article, "Wild Rider in a Strange Land – Sustaining Relevance in the Independent Studio" will appear in the April/May edition of American Music Teacher. This magazine is the national journal of my professional organization, Music Teachers National Association. I'll post it here and have reprints available in the studio when it comes out!
JANUARY 10, 2016 – Guest Teacher – Valerie Stark
I want to thank you all for making Valerie Stark's week of teaching/learning SO WONDERFUL! She loved the opportunity and found all the student eager to grow. Many of you commented on how many new things you learned and how legible her handwriting is! Thanks again for your openness and cooperation!
FRIDAY, JANUARY 8, 2016 – Winter Recitals 
Thank you all for two beautiful recitals – all your commitment, hard work and wonderful playing! It was great to have you all meet Valerie Stark, who, you'll see again on Feb. 1-4!
Early Program (below) Late Program (above)
IMG_0374IMG_0368
NOVEMBER 25, 2015 – Thanksgiving Playathon a Great Success
I want to thank all the students and families who participated in the Thanksgiving Playathon to benefit Father Bill's Place, Rosie's Place and Pine Street Inn. It is particularly meaningful at this time of year! The grand total raised is $3574.00!!!! All of this, every penny, goes to the three shelters.
The following students, pictured below, took part:
Jacqui O'Leary, Delia Logan, Harrison Logan, John Logan, Michael Porter, Camryn Bailey and, Anna Milevskaya, student and daughter of Olga Milevskaya.
Here are some lovely comments from studio parents about how much the event means to them and to their children:
"Thank you so much Alison. It is such a nice thing to do and I am hoping that our children start to understand how important it is. I sometimes try to to tell them that we are grateful that we are alive and have a meal in front of us…..it is a hard one to understand but hopefully some day it will resonate with them and they will have fond memories of taking part."
"This is a wonderful event for such worthwhile causes. My son enjoyed playing for such a charitable purpose. Thanks for offering this opportunity!"
IMG_8529IMG_3884IMG_3883IMG_3886IMG_2559IMG_3888IMG_3887IMG_8533IMG_8531
NOVEMBER 12, 2015 – New Collaborative Curriculum Component -Flute and Piano!
I'm excited to announce that each student is now playing a Piano and Flute piece to accompany me on my new flute! The reading, counting, listening and expressive skills gained from playing with another instrument are so broadening and rewarding that I know this will become a permanent part of our ongoing study.
IMG_3864
SEPTEMBER 15, 2015 – Wonderful BSO Concert
Studio Field Trip – Congratulations to Anne and Harrison Logan who attended!
Boston Symphony Orchestra Chamber Concert at Laura's Center for the Arts
2016 Improvs
Improvs are here!  Thanks for being patient.  Have a great time listening to each other's creative work.  Your improvs are thoughtful, fun and extremely varied.
Aidan Roy:
Angela Mirisola:
Alaina Patzer:
Annalise Patzer:
Annika Rowland:
Audrey Forman:
Camryn Bailey:
David Mitterando:
David Won:
Delia Logan:
Diana Flynn:
Diana Won:
Fiona Roy:
Grace Reed:
Harrison Logan:
Jack Rowland:
Jacqui O'Leary
John Logan:
Justin O'Leary
Kathryn Harrington:
Kian Roy:
Lauren Trulby:
Max Trulby:
Michael Porter:
Nick Lynch:
Owen Forman:
Sam Rowland:
Skye Mitterando:
Will Anderson:
.